Free Chapter – What is Music Production?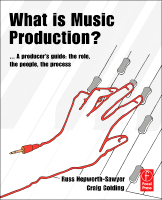 Focal Press would like to introduce you to a recent release:
Download a FREE CHAPTER.
A bit about the book… 
To complete an album, a producer needs to know what goes into capturing great music and teasing out inspirational performances from artists. As a producer, you are guiding not only the music, but also the business and the technical aspects of an album. Whether you are a student or just starting your professional career, What is Music Production? explains what you need to know. Combining the "how to be" with online assets and interviews, this book arms you with a vital insight into the business of being a music producer.
RELATED POSTS: